It's that time of year again: Time to start thinking about choosing the perfect gifts for those genuinely special people in our lives. While — obviously! — not everyone in your circle rates a gift of Diamonds, there are hopefully a fortunate few who deserve such a splendid and thoughtful gift. And anyway, several of our pieces of gift-worthy Diamond jewelry are far more affordable than you may think! Read on for Bloom's best gift ideas for Diamond jewelry for the 2022 holiday season.
---
A Cut Above: Rose Cut Diamonds
Who wouldn't love to receive a romantic bouquet of Rose… Cut Diamonds? Rose Cut Diamonds, which resemble the spiral of a rose bud, interact with light in a way that's distinct from other Diamonds, giving off a more romantically subtle and diffused luster. But don't you worry: They're still stunners! See all of our gift-perfect Rose Cut Diamond jewelry using the button below.
Bloom Pick: Our Rose Cut & Pavé Diamond Halo Drop Earrings (pictured) feature Rose Cut Diamonds encircled with lovely haloes of Pavé Diamonds and finished with 14k Gold Filled hand wrapping. Now that's what we call a Diamond bouquet! For a complete set, pair it with our Rose Cut & Pavé Diamond Round Delicate Necklace.
---
Now Showing: Organic Diamond Slices
When someone is described as a "diamond in the rough," it generally means that they've got exceptional inner qualities… but lack outer polish. But aren't we all diamonds in the rough? Whatever we may look like on the outside moment by moment, we are still uniquely beautiful inside. Diamond Slices celebrate the usually hidden inner beauty of organic Diamonds, which are laser-sliced into irregular shapes showcasing decorative inclusions. A gift of Diamond Slice jewelry is a perfect way to say that you see and appreciate someone's inner beauty and specialness. View all of our featured Diamond Slice jewelry using the button below.
Bloom Pick: Our Diamond Slice Figaro Delicate Charm Necklaces let you pair a gold-edged Diamond Slice pendant with a mini gemstone drop of your choice. Both pendants slide freely on the 14k Gold Filled figaro chain — like this one, which adds a lovely Turquoise drop alongside the stunning Diamond Slice.
---
The Very Best of Baguette Diamonds
Know someone who's always go-go-go on glamor? Or who would appreciate a nudge toward a bit of glitz? While Rose Cut Diamonds and Diamond Slices showcase the more subtle side of Diamonds, Baguette Diamonds deliver the dazzle. Elegant, alluring, and undeniably glitzy, the thin, rectangular, square-edged Baguette Diamonds are amazing on their own or arranged in settings with other Diamonds or gemstones. View all of our gift-ready Baguette Diamond jewelry via the button below.
Bloom Pick: Our Diamond Baguette Coin Delicate Necklace (pictured) is pure perfection, with multiple rounds of Baguette Diamonds arranged in concentric circles and set in Oxidized Sterling Silver. Paired with a delicate Gold Filled Chain, the necklace can be clasped at either 16" or 18". (Or contact us to request a customized length!) For an edgier take, check out our Baguette Diamond Wheel 14k Gold Filled Paperclip Necklace.
---
Pavé Diamonds to Put a Sparkle in Their Eye
Why not give a gift that helps them sparkle everyday? Consider Pavé Diamonds, the Goldilocks of Diamonds — offering sufficient sparkle that they can easily stand alone, but not too much that they can't readily be layered with other favorite pieces. Pavé Diamonds are the more delicate Diamond, balancing the right amount of sparkle with the right amount of affordability. Peruse all of our best Pavé Diamond gift ideas using the button below.
Bloom Pick: Our Starburst Pavé Diamond Delicate Necklace (pictured) is just one of those perfect pieces of jewelry, almost certain to become your favorite everyday goes-with-anything necklace. The 10mm Pavé Diamond starburst pendant hangs on a delicate 14k Gold Filled chain. The Starburst — and its BFF the Evil Eye Charm — are the most recent additions to our collection of best-selling Pavé Diamond Delicate Necklaces.
---
We've Got Our "Eye" on You: Evil Eye Diamonds
Know someone who could use a little protection along life's journey? Whether or not you believe in the superstition of the evil eye, giving evil eye jewelry is a delightful way to say, "Hey, I've got your back." We debuted our first pieces of evil eye jewelry as part of our Traveler's Collection in 2021, but our new Evil Eye Diamond pieces really ratchet the intensity up a notch. Learn more about the history of the evil eye in our blog feature, and see all of our featured Evil Eye Diamond jewelry below.
Bloom Pick: We think that our Evil Eye Pavé Diamond Large Paperclip Bracelet is a truly stunning way to keep away the evil eye! Pavé Diamonds are set in an Oxidized Sterling Silver evil eye pendant. Make it your own, choosing between 14k Gold Filled or Sterling Silver paperclip chains.
---
Lasting Luxe & Sparkle: SOLID Gold & Diamonds
For someone truly special in your life, why not give the gift of Solid Gold and Diamonds? While all of Bloom's jewelry is guaranteed to last a lifetime (and our typical choice, 14k Gold Filled, is already very high quality), the combination of Solid Gold and Diamonds screams TIMELESSNESS and QUALITY. You asked, and we answered: Now, many of our most popular Diamond designs are available by request in Solid Gold. Most of the pieces are Solid 14k Gold, but we also have selected pieces in 24k. Check out all of our Solid Gold and Diamond holiday gift ideas below. (And if all this talk of "Solid Gold" is giving you gold-tinged flashbacks of those famed '80s-era dancers, here you go.)
Bloom Pick: These Pavé Diamond Gold Huggies set Pavé Diamonds in 24k Gold, letting you wrap a pair of earlobes near you in lasting luxury built for everyday. These go-everywhere earrings can be dressed up, dressed down, and everything in between. Available in rose gold, white gold, and yellow gold.
---
My Precious: Celebrating All Four Precious Stones
We each have people in our lives who are precious to us. Why not echo that preciousness with a gift of honoring the four "precious" gemstones? The jewelry industry recognizes Emeralds, Sapphires, Rubies, and Diamonds as the "Fantastic Four" precious gemstones, and our new collection celebrates each gemstone alongside Diamonds. See all of our featured "Fantastic Four" jewelry gifts below.
Bloom Pick: Our Emerald & Baguette Diamond Coin Strung Choker Necklace is a truly stunning statement necklace that's perfect for any holiday gathering. An elegant choker of hand-strung Emerald beads showcases Bloom's best-selling Baguette Diamond Coin pendant. Wearable at varying lengths from 17" to 19".
---
"Evergreen" Diamonds for the Holidays: Raw Green Diamonds
The holidays annually bring evergreens into our lives, infusing the welcome freshness of green trees and wreaths into the generally less colorful world of winter. Bloom's "evergreens" for this holiday season are these gorgeous, rare, and organic Green Diamonds. Learn more about "Mother Nature's Finest" Green Diamonds in our blog feature, and check out our Green Diamond jewelry gift ideas below.
Bloom Pick: Our Green Diamond Filigree Layering Necklace (pictured) is a truly perfect layering necklace, subtly showcasing Green Diamonds on a timeless but on-trend 14k Gold Filled Textured Filigree Chain. Or, bring Green Diamonds to a beloved wrist with our hassle-free, customer-favorite Raw Green Diamond Thin Leather Triple Wrap Magnetic Clasp Bracelet.
---
Embrace Everyday Diamonds: Diamond Studs
Imagine giving someone — or yourself! — the gift of being Secretly Luxurious on any given day of their lives. Look no further than Diamond studs, which constitute the best form of Secret Luxury we know. Bloom offers several versatile Diamond stud styles in a range of price points. For some of our very best holiday gift ideas, check out all of our featured Diamond studs below.
Bloom Pick: These Starburst Pavé Diamond Studs (pictured) are our latest favorites, with a great gift price to match. With Pavé Diamonds set in star-shaped Oxidized Sterling Silver, these Diamond studs genuinely go with every outfit and occasion imaginable. Or try our Pavé Diamond Cushion Cut Studs to make a sparkle statement, our Pavé Diamond Bar Studs for layering with other holes, or our Baguette Diamond Bar Studs for a timelessly elegant look.
---
For a Fully Charmed Life: Diamond Charms
Give the gift of versatility that fits changing moods, outfits, and occasions! Bloom's a la carte Diamond Charms are a fantastic choice for situations where someone already has a favorite chain, but is looking to add a little more sparkle and personal style into their mix. Featuring on-trend enamel, evil eyes, and much more, our charms easily slide on and off your favorite Bloom chains. Check out all of our featured Diamond Charm holiday gifts using the button below.
Bloom Pick: Our Pavé Diamond North Star Navy Enamel Gold Rectangle Charm (pictured) is a great choice for nearly anyone, because couldn't we all use a little direction and inspiration? Another can't-go-wrong choice (at a more affordable price point) are these adorable Evil Eye Enamel & Gemstone Charms, available in several colors and with your choice of Moonstone or Opal.
---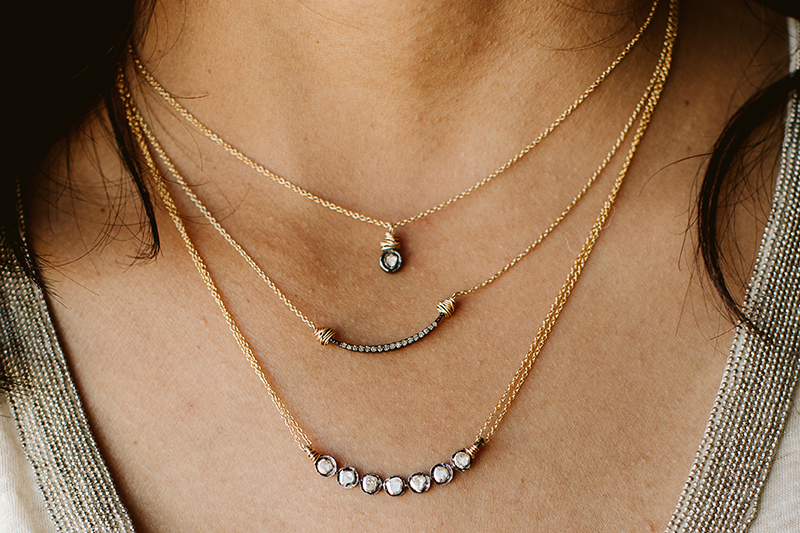 Customer Favorites: Diamond Best Sellers
Bloom's amazing customers obviously have great taste
— so why not take their cues to help you find the best gifts of the season? If you're still searching for holiday gift-giving inspiration, we've pulled together several of our bestselling Diamond jewelry pieces for your viewing and shopping pleasure. Just click the button below.
Bloom Pick: Our Small Pavé Diamond U Deli Necklace (pictured) has emerged as a favorite layering necklace, though it's of course equally lovely on its own. Pavé Diamonds are set in a delicate Oxidized Sterling Silver U pendant and finished with Bloom's signature hand wrapping; choose between Sterling Silver or Gold Filled chains. Or, if your giftee is more inclined toward earrings, try our fan-favorite Gold Rose Cut Diamond Stardust Halo Drop Earrings, bringing a heavenly sparkle suitable for everyday or that special night out.
Still craving more Diamond info and ideas? Learn more about the history of Diamonds — as well as how/why Bloom is committed to offering Diamonds at any price point — in the blog. And send us a message with any questions you may have!