In honor of the holiday season, we'll say it: Bloom Jewelry owes its very existence to the tradition of gift giving. Whether we're buying gifts for ourselves or our loved ones, it's the spirit of giving that inhabits and enlivens any piece of jewelry.
Still, we know exactly how stressful it can be to choose exactly the right holiday gifts for the people you love best. That's why we're here with our 2022 Holiday Gift Guide, chock-full of glittering gift ideas at every price point. Read on, and start spreading that glorious holiday sparkle and shine.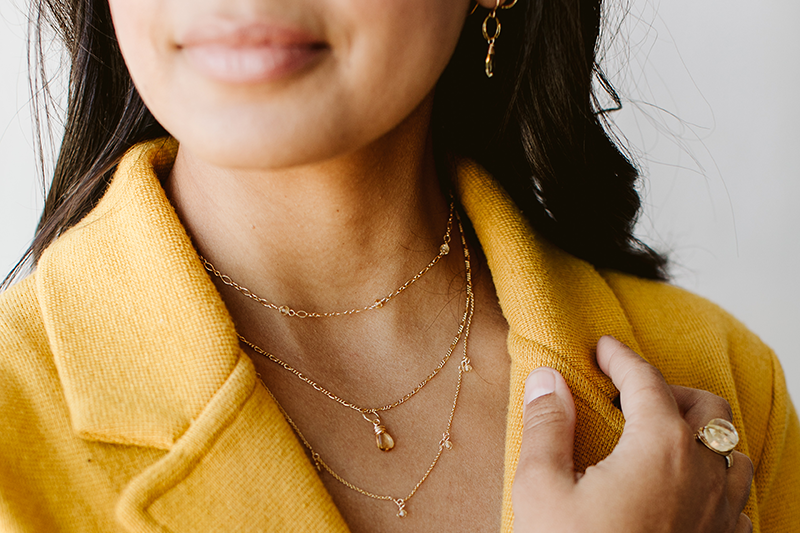 #1 Birthstones, Because Everyone Has One!
Every hard-to-buy-for human has a birthday, every birthday translates to a birthstone — and every birthstone translates to great gift ideas for the holidays. With that in mind, we're thrilled to announce Bloom's brand new and freshly debuted BIRTHSTONES page. We've organized several of our best holiday gift picks by birthstone, and included notes about the supposed meaning behind each. Gift away for the holidays!
Bloom Pick: This adorable Garnet & Gold Filigree Bracelet (pictured) is a great option for anyone celebrating a January birthday. Clasp to any link of this customer-favorite filigree chain for a guaranteed fit. Really, this bracelet is just as adorable with any birthstone — like with Amethyst for February, Emerald for May, or Pearl for June!
---
#2 Pretty in Pearl for the Holidays
Did you know that Pearls symbolize loyalty, prosperity, and truth? As truly timeless jewelry that nevertheless has a contemporary look, Pearls make a fantastic gift. Shop our expanded Pearl Collection here, and check out our top 12 favorite Pearl styles, curated just for you.
Bloom Pick: Our Pearl & Large Gold Paperclip Layering Necklace (pictured) puts a fresh twist on the classic Pearl necklace, bringing together a perfect mix of Pearl rosary and Bloom's highly popular paperclip chain into a 19" necklace that's likely to become a fast favorite. For a perfect Pearl pairing, consider our utterly on-trend Pearl Long Gold Paperclip Huggies.
---
#3 100+ Gorgeous Gifts Under $100
Give the gift of handcrafted and hand-picked this holiday season — without breaking the bank. Bloom's top gifts under $100 are here to help! Whether you're shopping for a best friend, sister, mother, or simply a stocking stuffer for yourself, this curated collection of more than 100 gifts under $100 is certain to offer gift-giving inspiration.
Bloom Pick: Our heavenly Signature Center Wrapped Hammered Cuff Bangle (pictured) comes in your choice of Sterling Silver, Gold, or two-tone. These elegant, simple open cuff bangles are adjustable, making them truly one-size-fits-all. Think she'd prefer a bracelet with an earthier feel? Check out our Saddle Triple Wrap Leather Cuff Bracelet, which brings together soft, supple saddle-colored leather with a no-fuss magnetic clasp cuff.
---
#4 Beautiful Best Sellers in Every Category!
Sometimes you already have an idea of *what* someone might want — as in, a ring, bracelet, necklace, anklet, or pair of earrings, or even a certain gemstone that's meaningful for them. In that case, you may simply want recommendations for ideas in that category. What better solution than to survey Bloom's customers for their favorites? That's exactly what inspired us to create our new "Best Sellers" pages for the holidays. Simply choose a category, and prepare to be inspired.
Bloom Picks: While we won't overwhelm you by sampling every category, we will offer up a few select favorites — like these lovely and lightweight Labradorite Tear Drop Earrings (pictured), which have lever backs to keep them secure in any setting. Choosing something from our Signature Best Sellers is likely to be a hit, like one of our Thin Triple Wrap Leather Cuff Bracelets. Or, you can't go wrong with a carefully chosen gemstone piece such as our Opal Rainbow & 14k Gold Filled Paperclip Anklet, which brings together Opal, Lapis Lazuli, Labradorite, and Turquoise on a delicate rosary anklet.
---
#5 Sidle Up to Our Revamped Charm Bar!
We're thrilled to announce that we've reimagined Bloom's Charm Bar in a new easy-to-use web page. Start by choosing a favorite chain. Then, explore a range of gemstone, birthstone, enamel, metal, heart, evil eye, and diamond charms. You can even personalize charms with initials, zodiac signs, symbols, and more. The Charm Bar makes it easy to put together a gift that's truly made for them.
Bloom Pick: Our curated collection of utterly on-trend Enamel Charms offers something for every taste, from stars to evil eyes to rainbows, hearts, compasses, and more.
---
#6 Instantly Classic Signature Layering Chains
The layered look is still on trend — but to our minds, it'll never go out of style. That's why you can't miss with a timeless gift of a Bloom signature layering chain. These necklaces, anklets, and bracelets look amazing alone or layered with other pieces. We've even got some signature chain-inspired earrings to match.
Bloom Pick: Our Gold & Silver Paperclip Duo Layering Necklace (pictured) mixes both of Bloom's best-selling paperclip chains in a fun and unique duo pattern. Can't stop at one? We get it, and we might just point you to our incredibly versatile Mixed Chain 4-in-1 Necklace, which lives up to its name by bringing together several styles of chains that you can wear in several different ways.
---
Shop This Look
Want more help pulling together a truly GREAT layered necklace look for your giftee? Check out "Shop This Look," which features our lovely models showcasing handpicked sets selected by Bloom Founder and Head of Design Lindsay Bloom Backman. Just click on a look to see all pieces featured.
---
#7 Dreaming of a Green Christmas
Green boughs, green trees, green wreaths, green mittens, green bows, green gift wrap: 'Tis the color of the season and the color of the year. Shop Bloom's incredible variety of gemstone shapes, sizes, and shades of green, including Emerald, Green Opal, Moss Agate, and Moss Aquamarine. Who needs another wreath? Instead, shop our curated Green holiday favorites below.
Bloom Pick: We're sure you'll agree that our truly stunning Emerald & Baguette Diamond Coin Strung Choker Necklace (pictured) honors the holiday season in the prettiest, greenest way possible, with rounds of Baguette Diamonds set in Oxidized Sterling Silver hanging from a striking hand-strung Emerald choker. Seeking a more budget-friendly Emerald necklace? Consider our Emerald & Large Gold Paperclip Layering Necklace, a contemporary take on Emerald in the form of another soon-to-be-classic layering necklace.
---
#8 Holiday Sparklers in Diamond & Pyrite
Shine on and on and on with this layered look from Bloom bringing together Pavé Diamonds and Pyrite. With just the right amount of sparkle to last all the way through the holiday season, this combination is bound to be a winner with anyone on your gift-giving list. Pyrite may be "fool's gold," but this level of sophisticated style is nothing to laugh about.
Bloom Pick: We love how our Pavé Diamond Dagger & Pyrite Strung Choker Necklace unites a delicate dagger pendant of Pavé Diamonds set in Sterling Silver with a bold strung necklace of hand-strung Pyrite. Can you call a dagger delicate? Well, we just did!
---
#9 Holiday Diamond Guide for Truly Glittering Gift-Giving Inspiration
Diamonds are the gift that lasts forever, so we know you can't have too many options. That's why we created an entire Diamond Gift Guide for 2022! From Rose Cut Diamonds, Pavé Diamonds, Diamond Slices, and Baguette Diamonds to pieces featuring Diamonds alongside all your favorite precious gemstones, we have sparkle enough for everyone.
Bloom Pick: Our Small Pavé Diamond U Deli Necklaces feature Pavé Diamonds set in a delicate Sterling Silver U — sure to produce smiles to match on any lucky gift recipient!
---
#10 Utterly On-Trend Evil Eyes in Diamonds & Enamel
Whether or not you believe in the superstition of the evil eye, giving evil eye jewelry is a delightful way to say, "Hey, I've got your back." We debuted our first pieces of evil eye jewelry as part of our Traveler's Collection in 2021, but our new Evil Eye Diamond pieces — featuring Diamonds and enamel — really ratchet the intensity up a notch.
Bloom Pick: We may just take this Evil Eye Pavé Diamond Figaro Necklace (pictured) everywhere. With Pavé Diamonds set in Oxidized Sterling Silver, this pendant definitely has its eye on your best friend, sister, or favorite aunt. Think they'd prefer one of our evil eyes in enamel? Consider our Evil Eye Enamel & Gemstone Figaro Necklace, featuring a White Moonstone within a turquoise enamel evil eye edged in Gold Vermeil.
---
#11 Solid Gold to Last a Lifetime
For someone truly special in your life, why not give the gift of Solid Gold and Diamonds? You asked, and we answered: Now, many of our most popular Diamond designs are available by request in Solid Gold. Most of the pieces are Solid 14k Gold, but we also have selected pieces in 24k. Check out all of our Solid Gold and Diamond holiday gift ideas below.
Bloom Pick: These Pavé Diamond Rose Gold Huggies let you wrap your loved ones' deserving earlobes in glorious 24k Rose Gold and Pavé Diamonds. Sure, they're not cheap — but neither is your love, right? 😉 Also available in White Gold and Yellow Gold.
---
#12 Fantastic Four Precious Stones for Super-Fantastic Gifts
Know someone truly fantastic? Give them a gift of the "Fantastic Four"! The jewelry industry recognizes Emeralds, Sapphires, Rubies, and Diamonds as the "Fantastic Four" precious gemstones. Bloom's new collection brings Emeralds, Sapphires, and Rubies together with Diamonds to create some truly stunning statement necklaces, versatile layering necklaces, vibrant earring sets, and more.
Bloom Pick: This stunning Sapphire & Baguette Diamond Strung Choker Necklace gives our best-selling Baguette Diamond Linear Midi Bar necklace a fantastically elegant choker upgrade. Baguette Diamonds lined with Pavé Diamonds are set in Oxidized Sterling Silver and hand-strung Sapphires all around.
---
#13 Diamond Best Sellers to Satisfy Even Tough Customers
If you've made it this far down our holiday gift guide, you are clearly committed to finding just the right gift for that special someone. Which is why we'll point you right back to our curation of Diamond Best Sellers, because you really can't go wrong with Diamonds. Ever heard of anyone being dismayed or displeased by a gift of Diamonds? We didn't think so.
Bloom Pick: These delightful Starburst Pavé Diamond Studs, with Pavé Diamonds set in Oxidized Sterling Silver, are a surefire favorite gift. Easily dressed up or down, they're the Diamond earrings that can go absolutely anywhere.
---
#14 Diamond Charms to Dress Up Those Favorite Chains
Nearly everyone has a favorite chain — an MVP of day-to-day wear. Why not add a little glitz, glamor, and sparkle to it with a Diamond charm? Shop our Diamond charms a la carte to come up with just the right combination. And let's be honest: It's very hard to miss when adding a Diamond to anything.
Bloom Pick: A gently guiding North Star is always a welcome addition to anyone's world, which makes our Pavé Diamond North Star Ivory Enamel Gold Coin Charm an inspired pick. Pavé Diamonds are set in Oxidized Sterling Silver with Gold Vermeil edging.
---
#15 Guarantee a Perfect Fit with a Bloom Gift Card
Shopping for someone whose strong sense of style — or passionate love of shopping — might mean they'll be happiest picking out their own jewelry? Look no further than a Bloom Gift Card. Just choose your amount ($25-$500) and we'll take care of the rest.
Still looking for more gift ideas? Well, did you know Bloom offers Personal Shopper services? Just send us a message at sales@jewelrybybloom.com to find out more.